When you taste a wine from Domaine Chapuis, 170 years of family tradition take over your senses, where each vintage is a new page being written.
Season after season, we must adapt to the natural elements in the constant search of terroir expression, so specific to the Climats de Bourgogne. Traditional gestures are repeated and are combined with innovation to obtain the best grape quality. All our work is characterized by heritage and emotion.


The Chapuis family

Pierre
A meal : Mum's apple pie
A memorable bottle : Corton Charlemagne Grand Cru 1979 from the domaine
A smell : Grilled praline
A song : Chanson de l'oignon
A book : The Pillars of the Earth by Ken Follet
A movie : Back to the Future
A sport : Rugby
A perfect Sunday : A sunny Sunday, waking up by the birdsong, familylunch with a nice bottle of wine, a walk in the vineyards and finishing the day around the fireplace.

Claire
A meal : Prime Rib
A memorable bottle : Corton Languettes Grand Cru 1999 from the domaine
A smell : Citrus and jasmine
A song : Take a piece of my heart, Janis Joplin
A book : The Big Four by Agatha Christie
A movie : Papi fait de la résistence, by Jean-Marie Poiré
A sport : Padel
A perfect Sunday : Sharing a nice lunch with friends and discovering wines from different regions of the world.
A FAMILY QUARTET
Claire and Pierre manage the Domaine alongside their parents, Maurice and Anne-Marie, by their side. They are happy to rely on their parents' experience for helping to pass the torch. A family quartet where everyone has their own mission and brings their own expertise.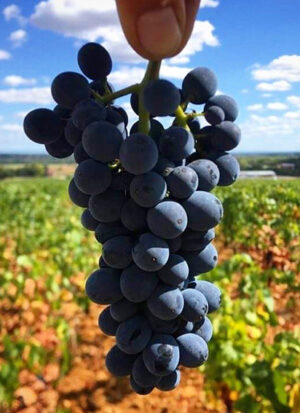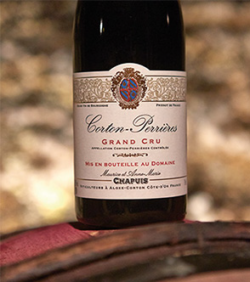 THE HERITAGE
At the Domaine Chapuis, the estate has been transferred from generation to generation since 1850. Everything started when Pierre Pavelot bought the first vineyard plot of one hectare plus 0.60 hectares of Charlemagne with his brother. Antoine Chapuis, married to his daughter and took over the activity in 1890. At the beginning of the century, the war times made the situation fragile for the Domaine. However, their son Maurice had managed to maintain the activity in 1915 and had been involved in the classification of the Burgundy appellations. At the end of World War 2, his son Louis continued to develop the activity and did important work in the vineyards by replanting almost all the Domaine vines. In 1985, the family history continued with Maurice and his wife Anne-Marie who took over the Domaine before passing on their passion to Pierre and Claire. Who represent the 6th generation.